Building Operations ensures the best possible learning and research environments through the safe, sustainable and efficient management of the physical assets on the Vancouver campus.
Building Operations maintains and operates the Vancouver campus, including all lands, buildings, and fleets at the lowest total cost of ownership through proactive maintenance and strategic minor capital improvements. The Building Operations team keeps spaces lit, the air temperature comfortable, waste sorted and recycled, and the campus clean.
This unit plays a key role in UBC's comprehensive sustainability program. The unit's team of 700 staff members includes skilled trades workers, landscapers, custodians, labourers, project managers, professional engineers, architects, and managers.
Other Units in Facilities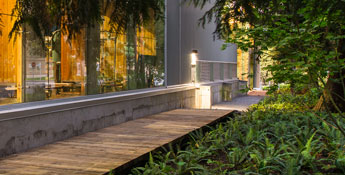 Energy & Water Services manages UBC's energy and water infrastructure and plays a key role in meeting campus sustainability targets.
Infrastructure Development manages the University's growth, including for existing and emerging needs, by planning, developing, renewing and renovating campus facilities.