Energy & Water Services (EWS) manages how energy and water on the Vancouver campus is generated, distributed, conserved and consumed, so that UBC's sustainability goals are achieved.
The unit maintains its customers' environmental comfort, ensures system reliability, and minimizes life cycle cost.
As mindful stewards of campus resources, EWS aims to inspire through innovative solutions, to reduce UBC's consumption of energy and water, and to eliminate the University's greenhouse gas emissions by 2050.
The EWS team consists of subject matter experts in energy and utility systems and is comprised of two groups: Energy Planning and Innovation, and Engineering & Utilities. The EWS team includes an independent advisory board, to provide guidance on major investments and governance.
EWS manages the costs of energy and water services by directly controlling the maintenance, operation, and capital upgrades of the associated infrastructure on campus. The unit also offers leadership on energy management, greenhouse gas emissions and infrastructure issues.
Other Units in Facilities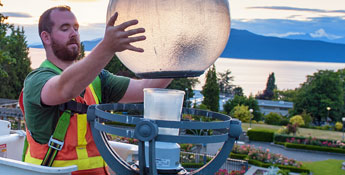 Building Operations manages the University's lands, buildings, and fleets efficiently, safely, and sustainably.
Infrastructure Development manages the University's growth, including for existing and emerging needs, by planning, developing, renewing and renovating campus facilities.