We are trusted advisors, partners and professional service providers who continuously improve delivery of responsive and adaptive services and solutions to our stakeholders
The eight divisions of the VP Finance & Operations (VPFO) portfolio are responsible for the stewardship of UBC's physical and financial assets. We oversee a $3.4 billion budget, a $2.8 billion endowment, and all university facilities on both campuses. The VPFO also manages the university's relationships with UBC Investment Management and UBC Properties Trust. In all the portfolio's responsibilities, we are committed to the values of excellence, integrity, respect, accountability, and safety.
News From the VPFO
September 12, 2023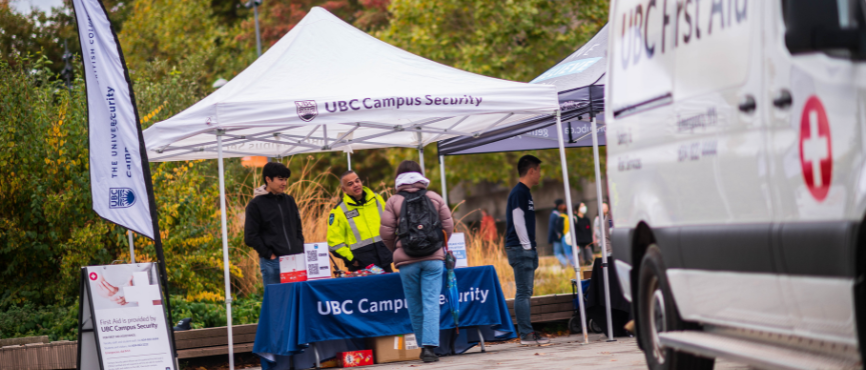 Let's start the Academic year off right by learning how to keep yourself and the UBC community safe and secure on campus. During Safety Awareness Week, visit UBC Campus Security's information booths across various locations on the UBC Vancouver campus to learn about theft prevention and helpful safety and security tips.
September 8, 2023
After several years of planning, Safety & Risk Services' Emergency Management team was able to see the plan come to life in a full set up. The team of UBC staff and volunteers set up registration, group lodging, and feeding services, including the set-up of 260 emergency cots, and invited the community to experience what supports evacuees could access during a disaster.
August 30, 2023
UBC Facilities is aware that there is currently an increase in mosquito activity due to this summer's weather pattern. Although, some may find mosquitos pesky because of their biting habit, Facilities does not manage the population of this insect.
August 29, 2023
UBC Facilities has updated the diagrams that shows the condition of UBC Vancouver Point Grey owned buildings as assessed by the Ministry of Post-Secondary Education & Future Skills (formerly Ministry of Advanced Education and Skills Training) in 2022. These diagrams are augmented by renovations completed to date after that audit.
August 24, 2023
UBC is enabling the expansion of the City of Vancouver's Mobi by Shaw Go Bike Share program to the UBC Vancouver Point Grey campus through the installation of five fully-electrified bike share stations. Starting this week, construction will begin for the first two stations at War Memorial Gym and The Irving K. Barber Learning Centre.
People of the VPFO
September 25, 2023
Nikki joins the VPFO Project Management Office from the Integrated Renewal Program (IRP) – Student, where she served as Acting Associate Director, Transformation & Change Management leading a team of change management specialists to support UBC's transition to Workday Student. Betty joined UBC in 2022 as a Senior Change Management Specialist (Community Engagement Partner) with the Integrated Renewal Program – Student.
September 18, 2023
Alan will help enhance our technical expertise in civil engineering and asset stewardship. Alan's passion and contribution towards community-oriented initiatives will help strengthen our equity, diversity and inclusion work while balancing the operational and maintenance needs for a resilient campus through asset stewardship and design. 
September 5, 2023
Steven will be leading the Learning Spaces team within Facilities Planning and working closely with partners in AV IT and Scheduling Services to ensure the smooth operation and future planning for UBC General Teaching Space (GTS). Steven will be transitioning into this role and working closely with the incumbent planner, Jodi Scott, until her retirement on October 27, 2023.
August 21, 2023
Alicia brings diverse experience in financial reporting, long term capital planning and forecasting, interpreting complex financial data and effectively communicating to stakeholders. In her new role, Alicia will focus on the accurate reporting of our capital project funding and Deferred Capital Contributions.
August 17, 2023
Cathy is joining Safety & Risk Services on a full-time, contract basis to help lead the team through a current & future state analysis and transfer of risk including insurance risk management operations and programs.
July 31, 2023
In her new role, Pam will focus on the accurate reporting of our Tangible Capital Assets, which includes working to define Capital within our Faculty/ Department expenses, liaising with working groups around the organization to track project spend, and supporting strategic initiatives for the portfolio.
July 25, 2023
Congratulations to Colleen Mah and Kyle Fenton on their promotion to Project Manager I in Project Services within Infrastructure Development. Colleen will continue to spearhead diverse initiatives, including renovations to support the University's Equity & Diversity goals, and Kyle will be leading complex renovation projects for Energy & Water Services, Faculty of Applied Science, and more.
In his new role, Tony will support UBC IT, VP Academic, and VP Research & Innovation primarily on their procurement needs under $75,000. Tony brings an impressive wealth of experience to our team, having worked in procurement for over a decade, most recently as a strategic procurement manager in Hong Kong.