It's no secret that UBC is one of the world's leading research institutions. We are recognized internationally as a global centre for teaching and learning, and chosen by students and faculty from across Canada and around the world as an academic destination. But there is a very significant dedicated team who are supporting this destination every day — who maintain the physical and financial assets of the organization and nurture the operations that are essential to UBC's academic mission and vision. The staff of the VPFO are emblematic of the university's motto Tuum Est — it is yours — as they build and maintain a better UBC each and every day through their dedication and service.
This year four members of the VPFO team were recognized in particular for their outstanding contribution to the organization through the President's Staff Awards and the President's Service Awards for Excellence. Our congratulations go out to Clara Ng, Assistant Dean, Finance, for the Faculty of Education and the Faculty of Pharmaceutical Sciences; Isgo Nercessian, a Financial Services Representative from UBC's Financial Operations department; Bruce Mooney, a Facilities Service Assistant with UBC's Okanagan campus; and Manjit Sound, a Head Service Worker in Building Operations in Vancouver.
"The contributions made by Clara, Isgo, Bruce, and Manjit are examples of the commitment to service demonstrated by many members of our portfolio," says Vice-President, Finance & Operations, Peter Smailes. "I'm so proud to count these among my co-workers, and would like to congratulate them on being recognized as leaders at UBC. Their work is critical to enabling the academic mission and vision of the university."
Championing Collaboration: Clara Ng
The President's Service Awards for Excellence are presented to five outstanding UBC staff members each year to acknowledge their contributions to the university. This year Clara Ng was chosen as one of those five, for the transformational impact her work has had on the Faculties of Education and Pharmaceutical Sciences. Particularly, in the Faculty of Education, Clara's exemplary leadership and support of collaboration has contributed to an improved understanding and greater transparency of financial affairs among the faculty's units.
"It would not be hyperbole to state that Clara has transformed the Faculty of Education," says Dean Dr. Blye Frank, who nominated Clara for the PSAE recognition. "When she joined us in 2015, our outdated financial policies and processes were no longer serving the Faculty well. Clara's commitment, insight, and professionalism turned around the Faculty's finances within four years."
Clara, who has 14 years of experience at UBC, directly contributes to building the leadership capacity and strengths of staff across large and complex faculties, creating cross-faculty mentoring opportunities when possible. With her mentorship and support, the finance teams she leads provide a first-rate service to academics — dramatically improving the ability of each faculty's researchers to manage their research funds and directly impacting UBC's core academic mission.
"I believe my purpose is to ensure that I provide the best possible advice, support, and services to enable informed decision-making across this institution, and to work with my Deans to help ensure their success as they lead their Faculties," she says. "Working across units and in teams enables staff to foster collaborative relationships, provide mentoring, share ideas, and learn from each other — which ultimately allows those teams to be more effective in their work."
"UBC is an amazing institution in which I am fortunate to be a member," Clara adds. "I am inspired everyday by the outstanding students, faculty, staff, and alumni that work in this institution. Having a deep sense of purpose and meaning inspires me to excel in my work."
Embodying Service: Isgo Nercessian and Bruce Mooney
Across campus, Financial Services Representative Isgo Nercessian is a familiar face at reception in the main UBC Financial Operations office, where she assists visitors with queries relating to their payroll and benefits. Isgo was recognized this year with a President's Staff Award for Enhancing the UBC Experience.
Known for her patience and attentiveness, Isgo focuses on working with UBC employees to find efficient solutions to their issues, and to advance their understanding of the complex and layered payroll and finance processes at UBC. She was nominated for the award by Dr. Franc Feng, a faculty member from UBC's Master of Educational Technology program, who felt compelled to recognize Isgo for her valued support with organizing his benefits over the years.
"Isgo has always been a caring professional who deeply empathizes with those under her charge," said Dr. Feng. "Waiting in line over the years, seeing the smiles of others she has supported, I would not be surprised if they had the same positive experience that I've had — hence my nomination. She is a hero in the background, and deserving of formal recognition as an asset for our university."
Isgo has been a valued member of staff at UBC for 45 years across a variety of support roles — she even met her husband when he was a PhD student in the Faculty of Education, where she worked at the time. "My job is to help people and secure solutions to their questions and issues," says Isgo. "I believe that the key to providing great service is showing empathy, listening to each individual's perspective, and treating others as I would want to be treated."
"It's a privilege to develop a career in such a prestigious environment, supporting executives, managers, and colleagues," she added. "And it's a bonus to be situated in such a beautiful part of the world."
__________
Facilities Service Assistant Bruce Mooney has also been recognized with a President's Service Award for Enhancing the UBC Experience on the Okanagan campus. Bruce was acknowledged for his care, patience, and dependability, as well as the high level of professionalism he brings to his work. He is viewed as a role model to others in the UBC Okanagan community, including Administrative Assistant Alison Ward, who nominated Bruce for the recognition."
It is always an absolute pleasure to deal with Bruce," says Alison, who works in the UBC Okanagan Library. "His exemplary attitude is something I very much admire, and I see him as a role model that others could learn from."
Bruce works in Facilities Management on the Okanagan campus — the corresponding service to Building Operations at UBC Vancouver. He responds to all sorts of work requests throughout the day — from door repairs, to painting, to replacing fixtures, to myriad other responsibilities that keep UBC's buildings functioning as they need to in support of the university's academic mission. "Bruce is a valued member of the Facilities Management team for his vast knowledge, experience, and reliability," says Bruce's supervisor, Manager of Land and Building Services Derek Mahoney. "He is always positive and supportive of his co-workers, and he routinely goes out of his way to help others."
Alison credits Bruce's quality customer service as being at the core of what makes work working at UBCO so special. "I benefit from this directly because I deal with Bruce frequently as part of the Administrative team for the Library. His willingness to help others is unequaled, which is why I nominated him for this award," she adds.
*Bruce was unavailable for photography at the time of publishing.
Exemplifying Leadership: Manjit Sound
On the facilities side of the VPFO, Manjit Sound supports UBC as a Head Service Worker in the Custodial Services unit of Building Operations. He is highly regarded by his colleagues for his ability to foster positive work environments and experiences, and was also acknowledged with a President's Staff Award this year in recognition of his leadership.
In a typical day in Custodial Services, Manjit and his team are depended upon by building administrators, researchers, faculty, staff, students, visitors, and contractors to solve problems and keep many teaching and learning spaces at UBC in pristine shape. Manjit is dedicated to finding creative solutions to workplace challenges, and brings together staff members to get the job done safely, efficiently and cheerfully. He was nominated for the award by Nicolas Banquero, a clerk in Building Operations who formerly served as an evening custodian on Manjit's team.
"Manjit's supervision is superb and unparalleled," says Nick. "He has a gift of understanding and patience, and his services drove me to excel and encouraged me to get where I am now. I believe his leadership has the same impact on my fellow custodians, and the university as a whole. This is a classic example of a 'ripple effect'— great things come from small beginnings."
Manjit, who has worked at UBC for seven years, leads a team of 36 employees on a daily basis in addition to dealing with client requests and feedback. "To make a great team you have to establish good relationships with each of your employees, foster teamwork, respect each other's culture, ideas, and values, and celebrate successes and failures together," says Manjit. "A great leader is someone who leads by example, has empathy towards their team, knows how to be humble, and is a clear communicator."
Inspiring Great People
"The people of the VPFO portfolio are integral to the university," adds Smailes. "We are trusted advisors, partners, and professional service providers who exemplify UBC's values of excellence, integrity, respect, and accountability. We manage the university's funds and keep the money moving to core activities like research and teaching, as well as providing critical services like payroll and purchasing. We pave the roads and mow the lawns, maintain the pipes and ensure everyone has power. We keep our facilities clean and aim to lead in environmental design. We build safe, visionary buildings for living and learning and open our campus as a living lab to demonstrate the possibilities of what can come next. I am truly amazed by the people I get to work with."
---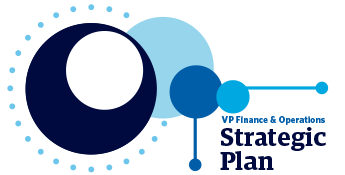 UBC's VPFO: enabling excellence in learning and research
The VPFO is responsible for stewardship of UBC's physical and financial assets, including all facilities as well as the university budget and endowment. The services provided by the 1200+ individuals who report to the portfolio enable UBC's excellence in learning and research.
Read more about the VPFO and how we are focused on enabling excellence in learning research at UBC at vpfo.ubc.ca/strategy.
---