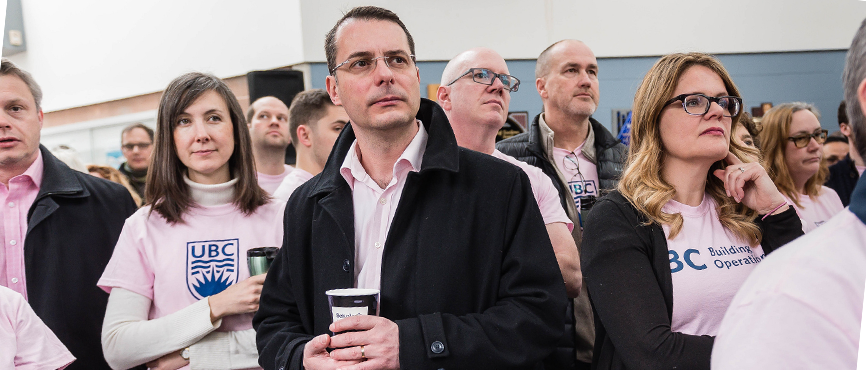 When you're part of a 24-hour operations group, Pink Shirt Day is really an all-day event — and a perfect example to show how the VPFO enables UBC's excellence because of the diversity of people we have and the inclusion of their voices at every level and in our every effort. Our staff gathered across UBC on February 27 in the morning, evening, and night for cake, coffee, and an opportunity to connect and talk about about respect, diversity, and inclusion.
Support for a VPFO-wide event began last year, when Building Operations came together for a series of conversations about respect in the workplace, which they capped with a department-wide celebration of Pink Shirt Day — the annual Canada-wide event symbolizing respect for the diversity of people and expression.
This year's expanded events began at 9 am when staff from across the VPFO were hosted at the University Services Building by UBC Building Operations. Hundreds of staff came to meet and talk about respect, diversity, and inclusion. Smaller events were held at 9 pm and 11:30 pm for evening and night shifts as well.
"The effort to come together and have open conversations is something I strongly support," says Vice-President, Finance & Operations Peter Smailes. "I believe that our portfolio's greatest opportunity is to continue to find the common ground between each other; between our roles, between our units, between us and the academy we serve."
Facilities AVP, John Metras, welcomed staff to the morning event with reminder that the creation of our best work environment begins with us, "as individuals we have the power to choose to interact positively with our colleagues, the power to point out problems, and the power to act with understanding, kindness, and respect.  It's all about day-to-day action."
Events were also organized for staff in locations like Financial Operations.
"To recognize the importance of Pink Shirt Day in Financial Operations, we invited everyone to wear something pink, and to contribute to a conversation about what respect means to us all," notes Trish Pekeles, the executive director of financial operations. "We also made certain that while we stayed open for business, we were also represented at the larger conversation. It's a rare opportunity for a group as large and diverse as the VPFO to come together like this."
This is not the end of the conversation for the VPFO. Vice-President Peter Smailes has asked the portfolio's senior leadership and our partners in UBC Human Resources to strike a committee across the VPFO that will create an overarching strategy for a focus on respect, diversity, and inclusion within VPFO for the next several years.