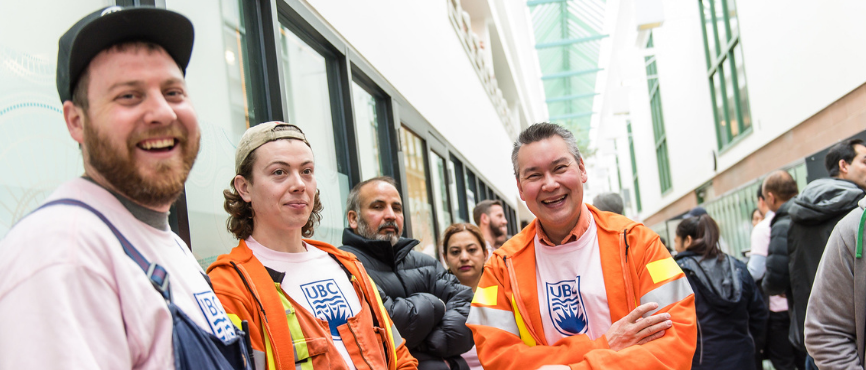 An ally is someone who is not a member of a marginalized group but takes tangible, ongoing action to support and empower that group. Being an ally doesn't necessarily mean you fully understand what it feels like to be oppressed; it means you are taking on the struggle as your own.
Everyone in the VPFO plays a key role in building a more open, respectful and inclusive UBC. How can we equip ourselves with the right tools and understanding as an ally to effect real change?
How can you show your support as an ally?
There are many things you can do as an ally to challenge oppressive power structures, from taking a stand against oppressive jokes in the workplace to organizing an event against discrimination.
Being an ally is an ongoing journey, and this is simply a starting point to help you understand what it means to be an ally and help you begin to build an effective and sustained practice of allyship.
Reflect
Acknowledge your privilege, examine your own personal biases, and seek to understand the systems that lead to oppression.
It is important to recognize that our identities intersect, combine, and overlap and members of underrepresented groups all have unique experiences. For example, a queer black woman and a cisgendered Indigenous man will experience oppression differently on the basis of their sexuality, gender, and race. Take this into consideration as you reflect upon how intersectional identities play into power and privilege in our society.
Educate yourself and broaden your perspectives
At UBC, our strength and success are built on the foundation of a wide range of perspectives and experiences. In addition to learning about our past with racism and oppression as a country, it is also important to broaden your perspectives and understanding of the lived experience of historically marginalized communities. A great way to do that is to diversify the content you consume, such as reading the works of non-White authors:
Stand up and speak out
Allies are important because they can help interrupt the cycle of oppression by using their voices to advocate for people who would otherwise be ignored, in places that oppressed groups are unable to reach. Privilege is a resource that can be used for good.
When you witness discrimination, try to offer your support in the moment. Initiate uncomfortable conversations with friends, family, and workplaces to help educate. Call out sexist or racist microaggressions. You may feel scared or uncomfortable but these actions are necessary to create a truly open and inclusive environment.
Amplify voices of the oppressed
Listen as much as possible and use your privilege to amplify historically suppressed voices. A good approach is to speak up but not over. The popular slogan, "Nothing about us without us" expresses the idea that no policy should be decided without the full and direct participation of members of the group affected by the policy. Use your privilege and voice in a way that doesn't drown out the community members — who know best what their lived experiences and needs are — you are trying to support.
This can take place in many forms, such as bringing diversity to the table at work, liking and sharing resources created by marginalized individuals in the digital space, mentoring and supporting members of marginalized groups to take on leadership positions, and more.
A lifelong journey
Being an ally is hard work. You need to be proactive in your education and take part in uncomfortable conversations. Being an ally is also a journey. There will be obstacles along the way and it will take time to understand deep-rooted issues and find your voice.
Lastly, being an ally doesn't mean you are expected to know everything! Ask questions and stay open to listening, watching, and learning. Below are some resources that may help: