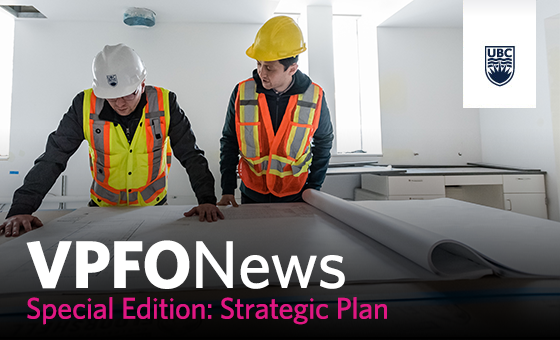 VPFO Employee Newsletter  | Special Edition | October, 2019
The VPFO has a new strategic plan and we need you
The VPFO is a complicated portfolio. With ten departments and key leadership roles with our wholly-owned subsidiaries like IMANT and Properties Trust, there is a lot going on at any given time.
To be our most successful, we need a plan that organizes our work from individual jobs, through departments, to the portfolio and UBC as a whole.
Read on to learn more about how our new focus will help us continue our innovative and award-winning work enabling excellence at UBC.
Our Stories
Get to know the VPFO Strategic Plan
The VPFO Strategic Plan 2019-2021 integrates with the UBC Strategic Plan. Our plan asks us to anticipate how UBC and its world will change, and to adapt well in advance rather than having change thrust upon us. By taking a long-term perspective, the VPFO can look beyond our current capabilities to make decisions based on the progress we expect to make over the life of the strategic plan.
Elements of our plan
Vision
We enable excellence in learning and research. READ MORE
Purpose
We are trusted advisors, partners and professional service providers who continuously improve delivery of responsive and adaptive services and solutions to our stakeholders. READ MORE
Values
We live UBC's values of excellence, integrity, respect, and accountability.
READ MORE
Strategic Priorities
Inspire great people, deliver on systems renewal, provide inspiring spaces, and lead operational excellence. READ MORE
Behaviours
Accountable to leadership and teamwork we are innovative, collaborative, inclusive, and agile change agents who live and breathe safety and service. READ MORE
Strategy in Action
This is where you'll find stories, resources, and updates relating to the VPFO's Strategic Plan as it continues to develop. Each quarter we'll be showcasing work from the portfolio that highlights our strategic priorities in action.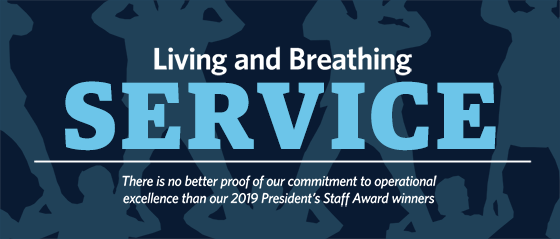 The first story in our strategic plan feature series takes a look at four portfolio members, and how their dedication and service make a difference at our Vancouver and Okanagan campuses.
Find resources to support our Strategic Plan
As we move forward with our work under the Strategic Plan we will continue to develop resources that help our departments build meaningful connections to our strategic priorities. Be sure to visit the VPFO website to find templates and toolkits that will help you understand the plan, and how it supports the full VPFO team.
More updates to come
Check back regularly for updates on the plan and to learn how we're performing as a portfolio group. We will also be posting quarterly feature stories to illustrate how the VPFO Strategic Plan comes to life in our day-to-day work.